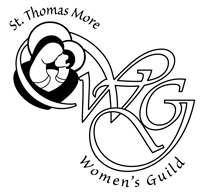 The mission of the Women's Guild is to assist
Monsignor Murphy in the development of the
family life of the Parish through activities that are spiritual and social.
UPCOMING EVENTS
Contribute • Be Informed • Get Involved
Contribute
Share your treasure. By becoming a WG member you will support all of the great work we do for our parish and community. (see complete list of activities below)
Be Informed
Stay in touch with parish life. Include your email address with your membership dues and you will be kept up to date on parish activities and events. (Email addresses are strictly confidential and are never shared. You can have your address removed at any time.)
Get Involved
Share your time and/or your talent. How much you do is up to you. Come to our events or join a committee to help plan an event. Help us with our community work or join a bible study. Join us at one of our monthly meetings and share your thoughts. Suggest a new activity or event that will benefit our Parish.
Join now! Here's how….
Return the WG Membership Card Envelope with your $15 in dues
(Envelopes mailed to all parishioners in September each year)
-OR-
• Send $15 in dues along with your name and email (preferred) or home address to the WG through the mail
• or the collection basket at church
• or hand deliver it to the rectory.
Questions?  Email WomensGuildofSTM@gmail.com
Join the WG at any time…it's never too late.
Membership year runs from September to August regardless of when you join. Please make checks payable to STM Women's Guild.
__________________________________________
SEE WHAT THE WOMEN'S GUILD CAN DO WITH
$15 FROM EACH OF ITS MEMBERS
AND THE HELP OF ITS VOLUNTEERS
Spiritual & Community
Religious and Spiritual Speakers
Bible Study
6th St. Shelter Adopted Apartment
Mary's Shelter
Turning Point
Fall and Spring Church Cleaning
Christmas Decorations
S.T.O.R.K.S.
Christmas Wafers – Oplatki
STM School & Religious Education Events
Enrollment Mass/Banner Social
Holiday Shoppe
8th Grade Class Night & Graduation
Parish Activities & Events
Anniversary Mass
Mother/Daughter Event
Bingo
Children's Christmas Party
Fall Social
Spring Gathering
Upcoming Events 2017-2018
Oct. 5 – 7:00 pm, First Meeting/ Fall Social
Oct. 8 – 10:30 am, Anniversary Mass & Brunch
Nov. 12 – 10:30 am, Enrollment Mass
Nov. 29-30 – Holiday Shoppe
Dec. 2– Children's Christmas Party
Winter 2018 – Mother-Son Snow Tubing
Mar. 22 – 7:00 pm, Bingo Night
Apr. 15 – Mother – Daughter Mass & Brunch, 9:00 am
Spring 2018– Spring Gathering
May 30 – 8th Grade Class Night
Jun 2 – 8th Grade Graduation
Jun 6 – Kindergarten Celebration
Parish Monthly Socials
2nd Friday of each month following 8:45 am mass Sep-Feb; Apr-Jun
Msgr. John Murphy
Spiritual Director
Cathy Spisszak
President
610-390-6505
Jodey Conway
Advisor
610-462-1178
Kathleen McCourt
First Vice President
484-201-3557
Liz Zemyan
Second Vice President
610-295-3319
Faith Gilger
Treasurer
610-739-2313
Cecilia Grabias
Member at Large
610-570-8464
Lisa Seed
Member at Large
610-462-3617
Colleen Kern
Member at Large
610-433-8554
Theresa Hudak
Member at Large
610-360-4352
Stacey Brobst
Member at Large
610-745-8861
Ann Hackl
Member at Large
610-217-3189
Heather Strencosky
Member at Large
570-617-0465

Gina Arnold
Member at Large
717-314-5602
Jacklyn McNealis
Member at Large
570-956-7798
Polly Graves
Member at Large
484-707-1106
Colleen Henry
Member at Large
574-229-0084
Service Chairpeople
Jane DeMelfy
Shrine Trip Coordinator
610-791-0783
Theresa Hudak
Parish Monthly Socials
610-360-4352
Gwyn Baker
Family Center Manager
610-217-0840